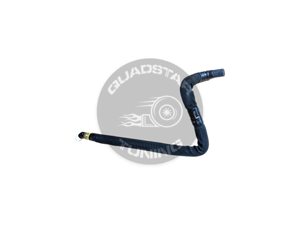 Heavy Duty Heater Hose
This custom molded hose replaces the factory metal/rubber molded pipe that goes from the thermostat housing to the heater core on the firewall.  Completely deleting the problematic quick connect fitting and metal pipe that's often bent beyond recognition after engine service jobs over the years.
The original uses that junky quick connect fitting that seems to always be broken/leaking. Also since they have been on there for many years now they are beat up and just need to be replaced.
This new hose is very heavy duty and wrapped with a heavy fabric braid to protect it.
It also has the proper restriction fitting in it so engine warms up faster.