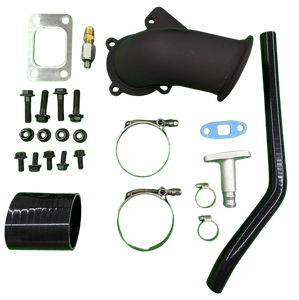 Holset Turbocharger Install Kit
Complete install kits for customers who wish to acquire their own turbocharger for a "Do it Yourself" DIY install. 
There are 2 styles available due to different backing plate designs on the turbos:
Wastegated HX35, HX40WII, WH1C
Wastegated HX40W
Includes:
TIG Welded Exhaust adapter with bolts and new clamp

Featuring CNC sealing ring for downpipe connection

2.5" silicone coupling and clamps
4x turbocharger mounting bolts and nuts
T3 Flange Gasket
Oil supply adapter fitting that re-uses the fitting and supply line from the stock turbo
Turbo Oil Drain Line Upgrade
Add Ons:
2.5 or 3" V-Band adapter for compressor outlet so you don't have to cut or grind the outlet flange off the turbocharger

Choose 2.5" for stock plenums
Choose 3" for upgraded 3" intake plenums

You can exclude the oil drain kit if you have an upgraded one already. Stock drain lines would require modification to fit

Also, check out our high flow plenum upgrade to make your swap a complete bolt-on operation without having to trim the stock plenum to fit.
---
We Also Recommend