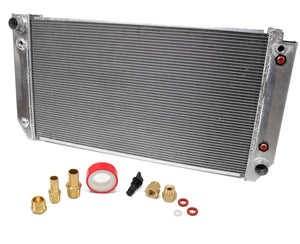 All Aluminum 6.5L Radiator
All-aluminum radiator with a 2 row core with 48 tubes per row.

The ultimate in heat exchange, designed to address the overheating issues with the Chevy and GMC 
6.5L 
platform. All connections are TIG welded for superior strength and clean design. This unit also doesn't have the same issues as the competition such as the wrong size purge tank fitting.
3 Year-Unlimited Mileage Warranty
In the OE application the heater core fluid returns after the radiator so it never gets a chance to be cooled. Unfortunately, this hot coolant goes right back into your engine. Our fully aluminum radiator features an innovative hot side return port to address the issue. This way the hot fluid will return before the radiator so it can be properly cooled, helping with many long term heating issues known to plague the 6.5L engines. A simple change to save you time, money and give you peace of mind!
~To take advantage of this feature simply attach an extra length of coolant hose to your OE return line using a barbed mender, then move it to this new port. Plug up the old port and you're good to go!
Installation may require slight trimming of the upper rubber mounts  to hold the wider end-tanks of this large radiator.  The installation should be straightforward otherwise.
---
We Also Recommend