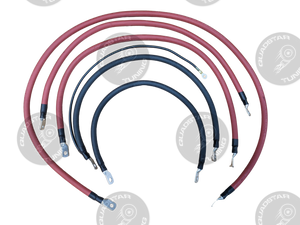 6.5L 2/0 Battery Cable Upgrade Kit
Complete 2/0 battery cable kit for your 6.5L truck. Great for replacement or upgrade; these are larger than the factory cables and will ensure you only have to do the job once for an extended service life.  These engines are basically the highest compression ratio engine ever produced for a passenger vehicle and they will thank you for this upgrade!
Featuring fine-stranded 100% USA made cable that is very flexible and easy to install
Kits include:
"BIG 3 Upgrade +"

2/0 Battery to Starter Cable 
2/0 Battery to Engine Ground Cables x2
2/0 Crossover Cable

1/0 

Alternator Charge Lead with silicone cover

1/0 Power feed from DS Battery to Under Hood Power Block (1995+ Models)
10 Ga Ground from Passenger Battery to Fender
Hardware kit featuring marine grade stainless studs and nuts
*Please select your model year when ordering so we can get you the correct kit
Look at the difference!
---
We Also Recommend