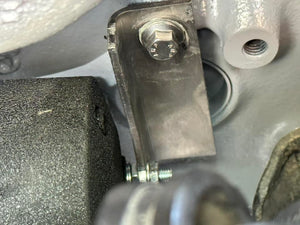 6.5L Starter Bracket
This is a replacement for the 6.5L diesel gear reduction style starter bracket/brace.  This little guy is responsible from keeping your starter bolts from shearing off or even breaking the block at the starter mounting flange.  DO NOT RUN WITHOUT ONE!
Quadstar exclusive. We make these from scratch in 1/8" 316 stainless steel.
This is compatible with all stock 6.5L starters and our upgraded gear reduction starter. However, it is NOT compatible with 6.2L factory direct drive starters.  Must upgrade to a 6.5 style starter if using on a 6.2 block.
ARP bolt for attaching bracket to engine block is included.
---
We Also Recommend