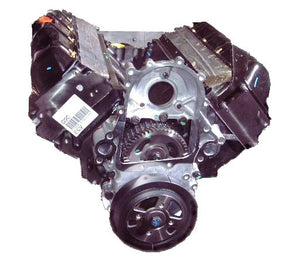 AMG GEP Optimizer 6500 Long Block
Meet Quadstar's version of the Optimizer 6500, the latest revision of the 6.5L diesel that is still in production today!  It features a 506 block design with piston squirters, like a GM casting, except it is cast with an improved metallurgy.  The heads have induction hardened seats and opened cooling passages between the valves to address all the issues GM engines traditionally had.
Why buy from Quadstar?
FORGED steel crankshaft, adopted from the P400 - STANDARD
P400 style head castings with improved cooling passages - STANDARD
Engine is test run after being built to ensure it's ready to drop in
Less lead time! We target 2 weeks but will confirm before clearing payment.
No core or core fees required! These are 100% new direct from the USA factory.
 *Specify correct configuration when ordering. The intake bolt angle in the cylinder heads is the only difference between our choices as we've standardized the rest of the packages.
**Your payment method will be authorized when ordering but not be cleared immediately. We will contact you before clearing payment to ensure your order is correct. Credit cards and financing will have convenience fees added due to the high cost of processing fees but is no issue otherwise.
---
We Also Recommend