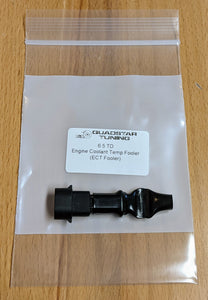 Engine Coolant Temperature Fooler
For all computer controlled 6.5L turbo diesels, this ECT fooler allows you so quickly and easily perform timing adjustments without having to fully warm up the motor.
Simply disconnect the factory coolant temperature sensor at the thermostat crossover housing and plug in this device. The computer will instantly recognize a 175-180* coolant temperature and allow you to perform the timing set or TDCO procedure.
 1994-2001 6.5L Truck, Van, Hummer, Cab and Chassis with DS4 injection pump.
Note: We still suggest performing the final timing adjustment when the engine is at operating temperature. This device simply allows you to finish the job faster and with much less hassle.

---
We Also Recommend