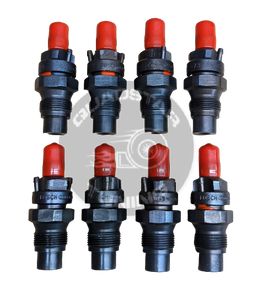 Bosch Stock Fuel Injectors
Stock nozzle 6.5L turbo diesel injectors (Set of 8)
Your online outlet for premium quality 6.5L turbo injectors.  These are balanced pressure sets (+- 3 BAR) and have blued steel bodies.
Each injector is hand-built with genuine Bosch nozzles.  Remember, just because it says Bosch on the outside, doesn't mean it has the real deal inside!
Stock nozzles = Stock turbo pop pressure with throttling pintle and quieter operation.  This is standard OE replacement spec for all factory 6.5 turbo applications with the short body injectors.
See our other listings for marine nozzle injectors.
The core deposit fee is required and will be refunded upon receipt of your undamaged returns.  We do provide pre-paid return labels for USA orders.
**You may see other injectors advertised as +40HP or +80HP. This is not a concept that applies to the 6.5L IDI platform, and we refuse to use it.  Fuel quantity injected into the cylinder is controlled by the injection pump whether it be mechanical or electronic style, and injectors alone will not increase your power output unless you are comparing worn out units to new ones.
---
We Also Recommend