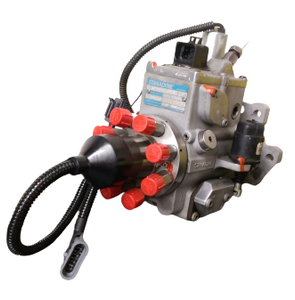 Remanufactured DS4 Injection Pump
GM DS 6.5L Fuel Injection Pump
These pumps go through a thorough re-manufacturing process and get reassembled to OE specifications. Components are completely cleaned, inspected, and tested. Worn or damaged components are replaced with new to ensure maximum quality and longevity (see below for more details). The pump is also tested as a full assembly before being shipped to install on your vehicle.
While this remanufacturing process is more expensive than some others, it is intentional on our end to ensure a superior product that is assembled by the most proficient trained technicians who still care about the quality of their work.
Key Features:
NEW Optic Sensor AND Data Track Disc

NEW Engine Shutoff Solenoid (ESO)

NEW PMD wiring harness

NEW Fuel Solenoid Armature
NEW Gaskets and Seals all around
Refurbished/Lapped Transfer pump assembly

Fully calibrated and tested to OE spec on Stanadyne certified equipment

Matching PMD resistor is included

Using all Stanadyne/Alliant Power OEM parts and seals and tagged with an official Stanadyne ID plate

Built and tested in USA by Stanadyne Trained Techs. No Aftermarket Parts.
When price comparing this pump to others, the key differences are:
This pump is not using aftermarket re-manufactured optical encoder sensors

This pump carries an official Stanadyne ID tag
The parts listed above as NEW are new parts. Not re-used or "just good enough to pass spec".  2 ways that DS4 pumps can be rebuilt cheaper than this are if they have more used parts or have aftermarket electronics.
1 Year Unlimited mileage warranty to the original purchaser:
You must be running an upgraded fuel filter assembly. Factory style top loading filters are outdated and are a main reason the factory fuel system has a bad reputation

Rust and water contamination will leave signs in the pump and void warranties. Fuel tank inspection and replacement is a must. Stainless tanks are available.

Cleaning of all under hood grounds and inspection of wiring harnesses for wear/tear is recommended as they will cause the same faults as a pump failure
CORE DEPOSIT REQUIRED
This is the DS-5521 model. Interchange part numbers are all as follows. DS4831-####, 5288, 5459, 5521, 5942, 10238969, 12552621, 12561307, 17800077, 12561405, 12558156, 17800114, 19208317, 19208315, 10225930, 19209059, AMPUMP, 502-550. 1994-2002 GM Trucks, Vans, Hummers, and some later model Hummers as well.
---
We Also Recommend